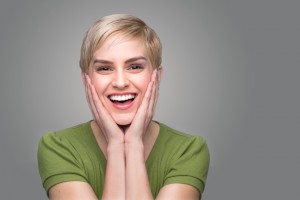 In just 2 visits to Robison Dental Group, your less than perfect smile can look gleaming and exceptional. Cover dark discolorations, pits and chips with Canton porcelain veneers. Hand-crafted from fine, dental grade porcelain, these thin ceramic shells improve the shape and size of teeth and also improve their color, durability and alignment.
Rescue your smile
Canton dentist, Dr. J.D. Robison knows a winning smile doesn't always occur naturally. Even with healthy teeth and gums, dental appearance can be less than perfect–even downright embarrassing. When defects are too severe to benefit from simple teeth whitening or cosmetic resin bonding, porcelain veneers come to the rescue.
The American Academy of Cosmetic Dentistry praises porcelain veneers, or dental laminates, as complementing any healthy smile with aesthetic defects. Permanent and irreversible, veneers require the removal of some enamel from the frontside of each tooth. This simple and painless procedure takes a ½ mm slice of material away to make room for the laminates. Impressions, photos and x-rays provide an outside dental lab with information needed to sculpt each veneer.
Canton porcelain veneers are not a cookie-cutter refurbishment. Rather, the ceramist at the lab carefully considers the patient's age, facial features, smile dimensions and tooth color to arrive at laminates that are complementary and durable.
Patients wear temporary veneers while their permanent ones are fabricated. During a subsequent dental visit, Dr. Robison bonds the veneers in place. He uses special cement that creates a strong bond to the teeth. He adjusts the adhesive to achieve just the right color match. Also, he fixes the person's bite for maximum comfort and function.
Life with porcelain veneers
Care of porcelain veneers is simple. Patients simply brush their teeth daily with a soft-bristled brush and a good quality toothpaste. They also floss in between and around teeth daily. While dental laminates generally are very stain resistant, any cosmetic dentistry patient is wise to avoid smoking altogether and to limit staining dietary choices such as coffee, black tea, red wine and blueberries.
To preserve veneer integrity and to keep laminates in place, patients avoid chewing hard foods such as peanut brittle and ice cubes. And, of course, no one, veneers or not, should open packages or bottles with their teeth!
With these simple care routines in place, porcelain veneers, and other cosmetic improvements, such as composite resin bonding, should last for years. In the unlikely scenario that a porcelain veneer should chip or come off, simply save the pieces, and call Robison Dental Group right away for an appointment.
Looking for a change?
Project self-confidence with a vibrant smile crafted by your Canton dentist, J.D. Robison DDS. Look good, and feel better about your teeth than you ever have. Explore porcelain veneers and other cosmetic dentistry options at Robison Dental Group. Contact the office today to set-up a consultation.